Copper Moon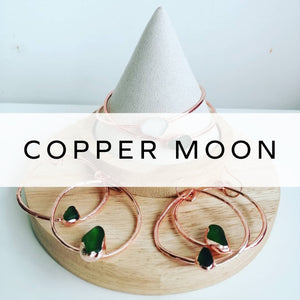 Copper moon is the concept of sisters Lucy and Jane on the East Coast of Yorkshire; creating small batch, hand-made jewellery with seaglass, crystals and copper through the process of Electroforming. 
Seaglass - a unique medium, wrought from a lifetime of tumbling with the waves, tides and sands of the North Sea and each piece with its own magical story to tell.
Each fragment of reclaimed and recycled seaglass is hand-picked from local shores and crafted into the pieces you see here today.
Copper Moon