Pentangle Pottery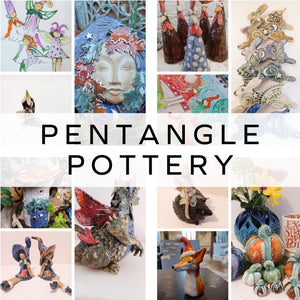 Karen was born 1959 in Leeds. She studied art at Jacob Kramer College.
Being fascinated by myth and magic, the figures and plaques she makes have a fantasy theme, hand built using earthenware or stoneware clays.
Working intuitively, each piece evolves its own personality during the process.
Work is kiln fired at least twice and stoneware items are completely frost proof.
Her work is available at national events and in galleries.
Pentangle Pottery