Pots & Petals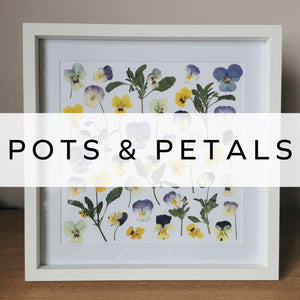 Pots & Petals was born from a love of the garden and nature in general.
Whilst fresh flowers are beautiful, I love that I can preserve flowers, extending their life and ensuring that they can be enjoyed for a long time.
I use traditional pressing techniques and I don't use any chemicals or colour enhancing techniques, therefore being more eco friendly.
The majority of flowers I press are grown in my own garden, however I do source some from local growers to enable me to offer a wider variety.
Pressed flowers can change colour in the press and may fade over time, however I feel this just adds to the charm.
I hope you get as much enjoyment from my pieces of work as I do making them.
Pots & Petals