Coppercuff Bracelets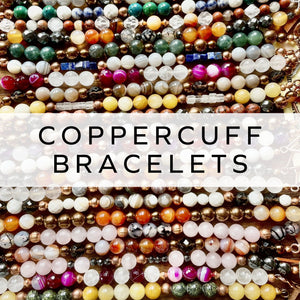 Fiona creates unique bracelets from semi-precious gemstones with pure copper toggle catches. All of the stones she works with have been mindfully selected because of their reputations for having healing and nurturing values. Whether you believe in those powers, or in the positivity of the beauty of the gems and crystals, Fiona offers you bracelets inspired by an appreciation of nature's treasures. ( No plastic, elastic, acetate or glass is used, and all the gems are genuine, natural and undyed ).She hopes that you find them uplifting and life enhancing in whichever way best suits your lifestyle. 
Fiona originally began working with gemstones when seeking relief from the challenges of menopause. She couldn't find exactly what she wanted to wear, or share with friends and family, so Coppercuff was her solution. 
Fiona and her husband followed their younger daughter and her family to Holderness three years ago. The huge skies and unspoilt beaches are a joy every day.
Wishing you health and happiness from Coppercuff.co.uk
Coppercuff Bracelets