Kissed Frog Pottery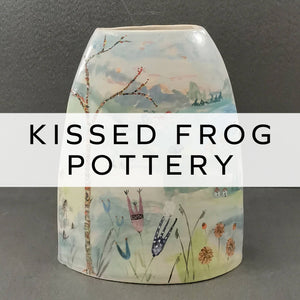 Kathleen Hepworth & Dave York run Kissed Frog ceramics + furniture
Their studio is in old farm buildings out on the Yorkshire Coast.
Every item is individually hand-made, hand-painted and unique.
'We take a piece of clay, shape it and then spend hours decorating, firing and glazing to turn into the piece that you see.
Until we got our hands on it it was just a lump of mud.
We kiss the frog.'
Kissed Frog Pottery