Periwinkle Shells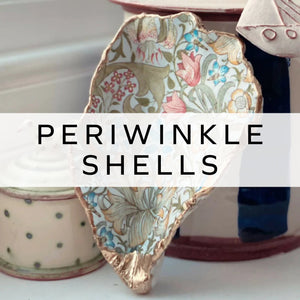 We are a small business based in Hastings, my partner is a chef and we didn't want to waste the lovely oyster and scallop shells so that's where Periwinkle Shells was formed. 
Together we make these lovely decorative shells. It is so fun coming up with new designs and bringing them to life, each shell uniquely different. 
It has been wonderful doing this together, bringing out our creativeness, and doing craft fairs together selling our lovely shells.
Periwinkle shells are all from the South East Coast and are beautiful both inside on the mother of pearl side and the outer shell
They are great for home decor, bathrooms, beach house style, wedding place settings and more. 
Thanks for helping us keep our little idea alive 🐚🤍🐚
Periwinkle Shells