Hannah Penrose Illustrations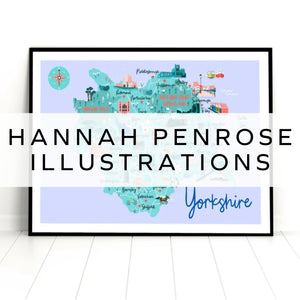 Hannah is an Illustrator with a background in Museum and Exhibition Design. Hannah Penrose Illustrations primarily specialises in hand drawn art prints, drawing inspiration from a variety of areas including local towns and cities, seasons and botanical influences. Hannah starts off her process with sketches and pen and ink drawings of inspiration, this transitions to digital drawing where she adds colour and final touches. 
Hannah lives in Cottingham with her husband, 3 children and 2 sausage dogs. In her spare time she enjoys baking, walking her dogs and gardening.  
Hannah Penrose Illustrations