Edge of the Wolds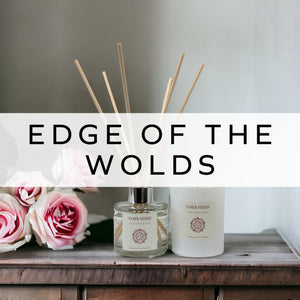 Edge of the Wolds was born out of the love of home fragrance inspired by beautiful East Yorkshire.    Every candle and diffuser are hand poured in small batches on the edge of the Yorkshire Wolds.
The products all champion the local area, and the East Yorkshire range includes the ever-popular Yorkshire coast, the stunning Yorkshire Wolds and the county itself.
The Beverley range brings a spotlight on the towns many landmarks including Beverley Minster, North Bar, Market Cross and the Black Mill on the Westwood pasture.
In the Hull range celebrate the city itself as well as Humber Street in the Fruit Market, Hull Minster and the Humber Bridge
The fragrances we've chosen aim to create an atmospheric mood and perhaps evoke a treasured memory of a visit to East Yorkshire.
The fun side of our products for home scenting are the animal and cactus ceramics diffusers. Easy to use and refill with the mini diffuser liquid they a cute way to scent your space.
Edge of the Wolds